India Today Consulting Editor has quit the channel after he was put off air by India Today for spreading fake news. As per the charges he is accused of spreading two fake news in just one week regarding the tractor rally and for which he was also suspended for two weeks by the channel.
The media house has penalized him because reportedly he has violated the social media norms several times earlier also. The penalizing also include cut of his one month salary.
It is being speculated that the suspension and salary cut have humiliated and he decided to resign from India Today.
In one of his fake news during the tractor rally he tweeted that one of the protestors named Navneet has been shot by Delhi, in his tweet he tweeted, "one person, 45-year-old Navneet killed allegedly in police firing at ITO." In a bid to pump up emotions, he had added, "Farmers tell me: the 'sacrifice' will not go in vain." In his tweet he also attached a photo of the deceased in tricolor.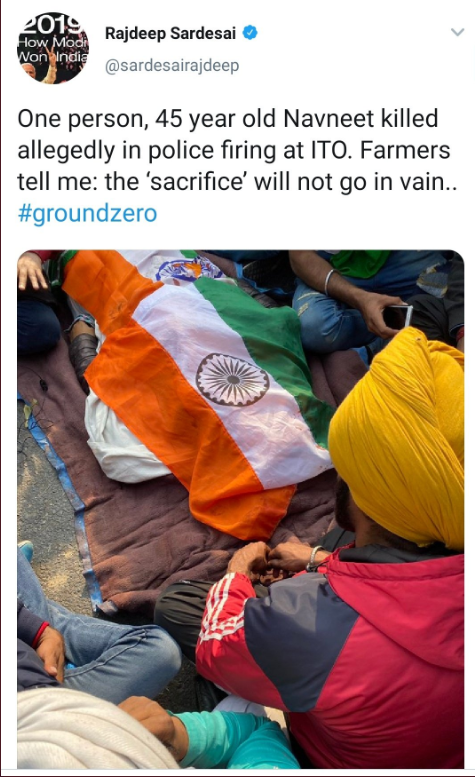 But Navneet had died because his tractor got overturned which he was driving in the rally. Later when it was clear that how Navneet died, Sardesai deleted his tweet.
He did not just tweet but claimed on air too that the farmer was shot into head by the Delhi police and had suffered injuries because of which he died.
Not just this incident Sardesai had also joined the unveiling portrait ceremony of Netaji Subhash Chandra bose on 23rd January which was Netaji's 125th birth anniversary.
Rajdeep Sardesai went to accuse President for unveiling the wrong portrait as many other journalists and opposition leaders alleged that the portrait was of actor Posenjit Chatterjee who played his role in a movie. But later it was made clear that the portrait was based on a picture of Netaji which was given by his grand-nephew.