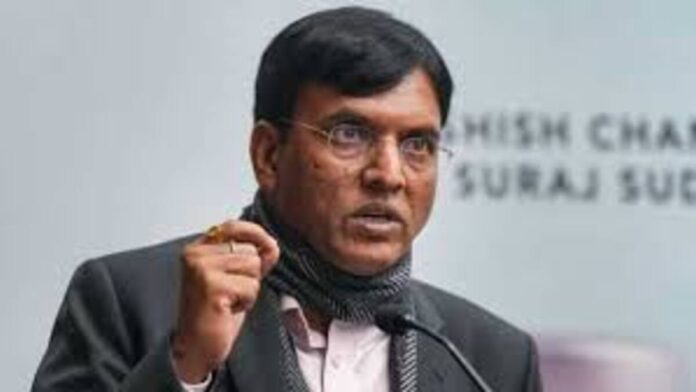 The COVID-19 vaccine, iNNCOVACC, was unveiled by Union Health Minister Mansukh Mandaviya on Thursday in the presence of Union Minister of State (IC) for Science and Technology, Jitendra Singh.
The first intranasal Covid-19 vaccine to be approved for both a heterologous booster dose and a primary 2-dose regimen is iNNCOVACC. The Biotechnology Industry Research Assistance Council (BIRAC), a PSU within the Department of Biotechnology of the Ministry of Science and Technology, and Bharat Biotech International Limited (BBIL) have worked together to create it.
In expressing his joy at the occasion, Mandaviya noted that more than 65% of the vaccines administered worldwide come from India.
He congratulated the BBIL team and the Department of Biotech for developing the world's first nasal vaccine and said that it was "a wonderful tribute to the demand for Atmanirbhar Bharat" because it was the world's first intra-nasal Covid-19 vaccine.
The Union Health Minister further stated that due to India's success in generating high-quality, reasonably priced medications, the country is recognised for its ability to innovate and produce vaccines.
Jitendra Singh claimed that "India has taken a lead in generating vaccines and treatments for diseases common in the developing countries" as he congratulated BBIL for developing another vaccine in partnership with BIRAC.
He added that ZyCoV-D was created in collaboration with the Department of Biotechnology in the Ministry of Science and Technology through BIRAC as part of "Mission Covid Suraksha," the world's first DNA-based vaccine for Covid-19 to be administered to humans, including children and adults 12 years and older.
iNCOVACC is a Covid-19 vaccine that is affordable since it does not require syringes, needles, alcohol wipes, bandages, or other injectable vaccination accessories. This reduces the cost of procurement, distribution, storage, and biomedical waste disposal.
It makes use of a vector-based platform that can quickly be upgraded with new versions, enabling large-scale production in a matter of months. It is the ideal vaccine to combat future infectious diseases because of the quick response times and simple, inexpensive administration by the nose.
In private institutions that have placed advance orders, a deployment of iNCOVACC is anticipated to start. It has been confirmed that the initial manufacturing capacity is several million doses annually, with the ability to grow this up to a billion doses as needed. For purchases in large quantities by State Governments and the Government of India, iNCOVACC is priced at Rs 325 per dose.