BCCI is all set to end the countdown for Indian Premier League (IPL) Auction 2021 today in Chennai. Total 292 players will be in the race of getting recruited but only 61 players can be selected by the total eight franchises. Total 1,114 players had registered for the auction out of which only 292 will go under the auction.
Here is the live feed of IPL 2021 Auction:
Let us take a look at the purse remaining for each team ahead of the 2021 IPL auction.
Chennai Super Kings(CSK)- 19.9 Crores
Delhi Capitals(DC)- 13.4 Crores
Kolkata Knight Riders(KKR)- 10.75 Crores
Kings XI Punjab(KXIP)- 53.2 Crores
Royal Challengers Bangalore(RCB)- 35.4 Crores
Sun Risers Hyderabad(SRH)- 10.75 Crores
Mumbai Indians(MI)- 15.35 Crores
Rajasthan Royals(RR)- 37.85 Crores
11 players have a base price of 2 Crores and only two of them are Indians, Harbhajan Singh and Kedar Jadhav. On the other hand, Glenn Maxwell, Steve Smith, Moeen Ali, Shakib Al Hasan, Jason Roy, Mark Wood, Colin Ingram, Sam Billings and Liam Plunkett are the 9 foreigners with a base price of 2 Crores.
As far as the money left in the purse is concerned, the Kings XI Punjab (now Punjab Kings) have a whopping 53.2 Crores that is left to be splashed and have a total of 9 slots left to be filled. The Sunrisers Hyderabad (SRH) and Kolkata Knight Riders (KKR) have the least amount of money left. Both the franchises have just 10.75 Crores remaining in the purse ahead of the auction. While the Hyderabad side has only 3 slots left to be filled, the Kolkata outfit has as many as 8 empty slots left.
The Royal Challengers Bangalore (RCB) have as many as 11 slots that are yet to be filled, and the amount that is left in their purse is 35.40 Crores. As far as the number of overseas slots left is concerned, the Chennai Super Kings (CSK) and Sunrisers Hyderabad (SRH) have just one more overseas slot to be filled, while the Kings XI Punjab (KXIP) side outfit has as many as 5 overseas slots that are up for grabs.
All in all, 18th February 2021 promises to be a day filled with a lot of surprises, excitement, and fervor. All the franchises will be looking to iron out the chinks in their armor when they assemble in Chennai for the auction. So, sit tight, brace yourself, and set your alarms for 3 PM on 18th February 2021, as it promises to be one hell of a ride!
Here are all the teams after their planned teams and remaining balance in the purse ahead of the auction :
Chennai Super Kings
Kolkata Knight Riders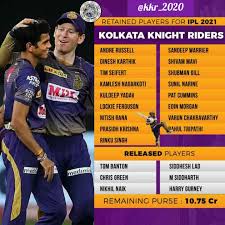 Punjab Kings
Delhi Capitals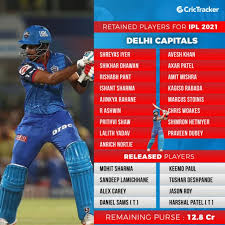 Royal Challengers Bangalore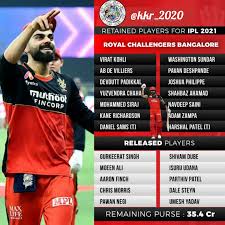 Rajasthan Royals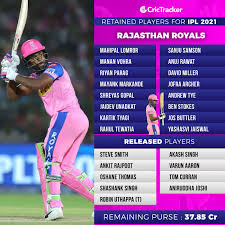 Mumbai Indians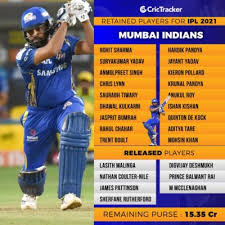 Sunrisers Hyderabad